Kamila Michałowska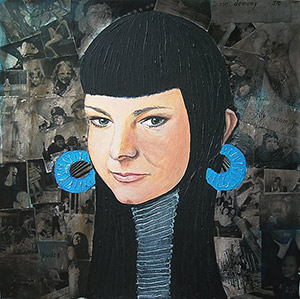 Dyplom z aneksem sce-nograficznym na Wydziale Malarstwa ASP w Gdańsku (Sklepy cynamonowe B. Schulz, 2002). W latach 2000‑2001 asystentka w pracowni scenografii prof. A. Markowicza.
Uczestniczyła w warsztatach scenograficznych, których efektem była scenografia do widowiska plenerowego Romeo@Giulietta prezentowanego podczas II edycji Międzynarodowego Festiwalu Zdarzenia w Tczewie (2001).
Współpracowała jako asystentka scenografa przy realizacji spektakli baletowych Pan Twardowski (Opera Nowa, Bydgoszcz, 2007) i Kopciuszek (Opera Nowa, Bydgoszcz 2009).
Uczestniczyła w wystawach:
• Obrazy sceniczne Teatr Wybrzeże w Gdańsku – VII Festiwal
Szekspirowski, 2003
• Scenografia i Formy Przestrzenne, Muzeum Narodowe
w Gdańsku, 2006;
• Festiwal Plakatu Reklamowego Barbakan w Krakowie,
plakat Prowadzę – jestem trzeźwy nominowany do nagrody, 2008
• Wystawa zbiorowa Hallo, BWA w Bydgoszczy, 2010;
• Obrazy Przestrzeni, Instytut Polski w Pradze – wystawa towarzysząca XII edycji Quadriennale Scenografii w Pradze, 2011.
Diploma with scenographic annex at the Faculty of Painting, Academy of Fine Arts in Gdańsk (Cinnamon Shops B. Schulz, 2002). In 2000-2001 she was an assistant at prof. A. Markowicz's Scenography Studio. 
She participated in scenographic workshops, preparing scenography to the open-air performance entitled Romeo@Giulietta presented at the 2nd edition of Events International Festival in Tczew (2001).
As scenographer's assistant, she contributed to the staging of ballet performances Pan Twardowski (New Opera, Bydgoszcz, 2007) and Cinderella (New Opera, Bydgoszcz 2009).
She presented her works at the following exhibitions:
• Stage Images Wybrzeże Theatre in Gdańsk – 7th Shakespeare Festival, 2003; 
• Scenography and Spatial Forms, National Museum in Gdańsk, 2006;
• Barbakan Advertising Poster Festival in Kraków, nominated poster I drive – I am sober, 2008;
• Hallo Collective Exhibition, Art Exhibition Office (BWA), Bydgoszcz, 2010;
• Images of Space, Polish Institute in Prague – exhibition accompanying the 12th edition of the Prague Scenography Quadrennial, 2011.